Representing more than 30 countries, these 49 enthusiastic professionals gathered under the guidance of experienced mentors from the REMARKABLE Climate Leaders project. Their mission was to tackle energy-related challenges in 7 European regions, showcasing their innovative solutions and passion for sustainable energy.
The picturesque town of Spital am Pyhrn, nestled in Upper Austria, played host to this 5 day-long challenge on the 24th – 28th of July 2023. Organized by OÖ Energiesparverband (ESV), sponsored by REMARKABLE Climate Leaders & Upper Austria, the event aimed to empower young professionals to lead the way in transforming the energy landscape of respective European regions.
Diverse teams tackle clean energy challenges under expert mentorship
Divided into eight teams, the young climate leaders embarked on an ambitious journey and took on a comprehensive range of topics. Each team tackled a specific challenge, ranging from building a wide campaign to attract sustainable energy professionals in Upper Austria, designing and promoting a Clean Demonstration Building in Zagreb, to developing Energy Communities in Spain and Ireland. Additionally, some teams worked tirelessly on connecting with small and medium-sized enterprises (SMEs) across Europe, gaining wind power acceptance in Auvergne Rhône Alpes, and advancing biomethane in the South of Ireland. The diverse range of challenges undertaken by these passionate individuals showcased the depth and breadth of their commitment to driving sustainable change.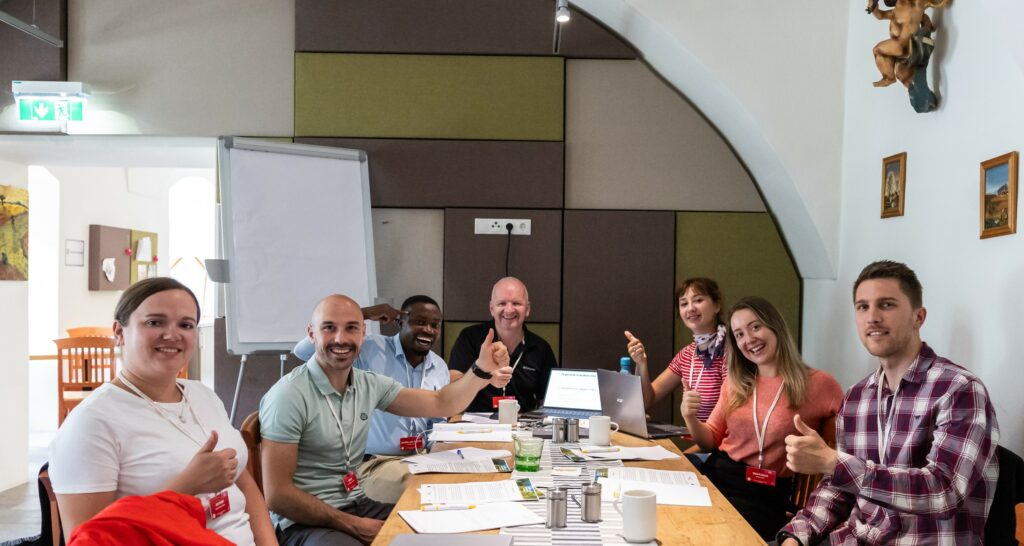 Under the mentorship of esteemed experts, these participants were able to tap into invaluable knowledge and insights. Barry O'Sullivan from the Shannon Estuary Taskforce and Technological University of the Shannon, Catherine Premat, Head of Territorial Projects and Green Public Procurement at AURA-EE (France), and Christiane Egger, Deputy Manager at ESV (Austria), played instrumental roles in guiding the teams. In addition, mentors like Filip Dumitriu from FEDARENE (Belgium/European Union), Francisco Puente from ESCAN Consulting (Spain), Miljenko Sedlar from REGEA (Croatia), Seamus Hoyne, Chair of the Tipperary Energy Agency (Ireland), and Vlasta Krmelj, Director of Energap and Mayor of Selnica ob Dravi (Slovenia), generously shared their expertise, shaping the young climate leaders on their path to becoming future champions of climate action.
Towards climate neutrality
The challenge fostered a sense of camaraderie and international collaboration. Participants from diverse cultural backgrounds and varying professional expertise exchanged ideas, forging lasting connections that will undoubtedly contribute to Europe's effort to reach climate neutrality before 2050.
In conclusion, the International Clean Energy Challenge 2023 held in the Austrian Alps brought together a remarkable group of young climate leaders who are leading the way in sustainable energy solutions. With their passion, knowledge, and dedication, they have demonstrated that tackling energy challenges requires a collective effort from all corners of the globe.